Bleached Paper Roll Production Line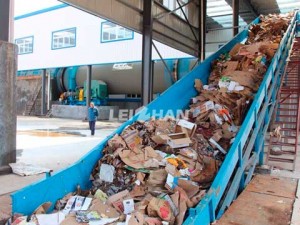 Bleached paper roll is roll of white kraft paper rolls used for different wrapping and covering applications, can be used for protection against the damage and moisture caused during shipping damage & rough carrying.
Leizhan-a China leading manufacturer and supplier,  is capable of supplying complete systems contains stock preparation line and paper making line for bleached paper making based wood pulp, waste paper, paper board, white shavings, straw pulp, etc. System designs are tailored to meet the customer's specific requirements with regards to raw material, water management, reject handling, and end product quality.
Stock Preparation Line Machine Manufacturer
Pulping: The waste paper moves by Chain conveyor to Pulper machine like Drum pulper, D type hydrapulper for pulping. The pulper breaks the paper down into pulp.
Cleaning: Using High consistency cleaner, Low consistency cleaner, heavy contaminants are moved out from the pulp.
Screening: Slots and Hole Screen are used for coarse and fine screening of paper pulp, light impurities are moved out.
Refining: During refining, the pulp is beaten to make the recycled fibers swell, making them ideal for papermaking. If the pulp contains any large bundles of fibers, refining separates them into individual fibers.