BFW Series Chain Conveyor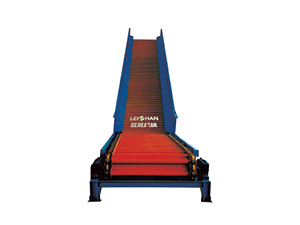 BFW Series Chain Conveyor is mainly used for conveying various kinds of pulp board, waste paper in bulk and in bundle which can be horizontal conveyor or inclined conveyor(<30°). Intended particularly for loading of waste paper(loose or in bales) or chemical pulp into a pulper.
Application & Features
Trough plate punch forming which high strength and excellent in crushing effect.
Chain board adopts closed design to prevent material leaking.
Two rows of idler traction chain and hollow roller shaft,and oil can be injected from pin roll to shaft sleeve and wear-resistant zinc-copper bushing.
Two rows of chain adopt long axis to prevent chain running deviation.
Chain wheel adopts cast steel to improve wear-resistant.
Raw material feeding plate adopts V design( more than effective conveying width 400mm) to improve raw material throughput.
Orbit type running,operate steadily and reliably, with low friction and low power consumption.
 Main Specification
Type
 BFW
Chain Plate Width (mm)
1200
1400
1600
 1800
Feeding Capacity(m3/h)
 60-220
 80-255
 95-300
 110-345
Conveying Material
 Waste Paper / Pulp Board
Max.limit of Material (mm)
 1000
 1200
 1400
 1600
Motor Power(kw)
 5.5
 7.5
 11
 15
Type
 BFW
Chain Plate Width (mm)
2000
2200
2400
 2600
Feeding Capacity(m3/h)
 140-390
 160-430
 200-500
 240-600
Conveying Material
 Waste Paper / Pulp Board
Max.limit of Material (mm)
 1800
 2000
 2200
 2400
Motor Power(kw)
 18.5
 22-30
 30-45
 37-55
Work Principle
The Chain conveyor is mainly composed of driving device, tension device, link Plates, chain wheel and rack. The machine adopts chain to drive through plate to transport raw materials into the drum pulper for pulping. It is the best choice of waste paper and pulp plate conveying equipment.
In order to meet the needs of the paper mill and technical layout requirements, the transmission installation of chain conveyor is divided into left type and right type(look up along the material running direction, transmission installation in the right of the machine is right type, otherwise for the left type).
Customer can chose the chain conveyor installation types according to the process design requirements. When customer place an order for chain conveyor, the left or right type should be indicated in the contract.
Capacities vary depending on feed size, feed rate, operating conditions, desired product output, characteristics of feed material, and equipment configuration
Download complete technical literature [PDF]


Paper pulping line requires more than guesswork.
Leizhan can offer customers complete paper pulp equipment service with rich experience. We are aiming at building a world brand in paper making & pulping field with professional skill and positive innovation spirit.
If you are interested in our products, welcome to our company, you can also consult via telephone or email. We will offer you product details and working knowledge. You will not only get high quality equipment with competitive price but also intimate service.