High-Speed Stock Washer Equipment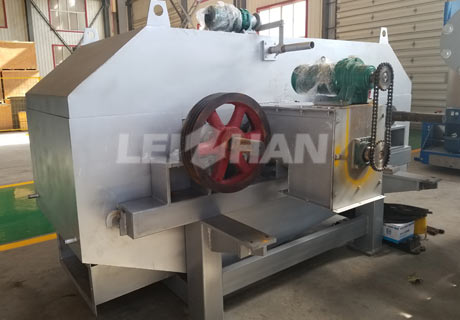 High-speed stock washing machine is widely used in paper mill deinking system for pulp washing with its advantage of advanced technology, high efficiency and high degree of automation. The high-speed stock washer can achieve the change of pulp concentration from low to high, the concentration increased fast, high ash removal rate, high efficiency of pulp washing, can efficiently remove the ink particles, fillers and other small impurities, improve pulp whiteness.
High-Speed Stock Washer Work Principle
High-speed stock washer equipment convey the pulp into the crack between polyester wire and chest roll, chest roller drives the strainer and couch roller with high speed rotation, with combined effect of the press force of strainer and breast roll and the centrifugal force of high-speed rotation, pulp is dehydrated and thickened. Pulp reach to couch roll with the strainer, will be sprayed, and further dehydrated by the press force of strainer and breast roll and the centrifugal force, then pulp is scraped from couch roller into outfeed screw by doctor blade. The high concentrated waste water extruded in chest roller and the low concentration wastewater extruded in couch roller are separately discharged from the equipment, in order to facilitate the subsequent wastewater treatment. In the above process, due to the pulp layer between strainer and roller is very thin, so the ink particles, filler and other fine impurities in the pulp are less likely to be obstructed from pulp layer during the removal process, so it is easy to be discharged out with water.
High-Speed Stock Washer Specification
Working Width(mm): 1000-2500mm
Concentration Of Input Pulp(%): 0.8-1.5
Concentration Of Output Pulp(%): 8-15
Ash Removal(%): ≥90
Power Of Main Motor(kw): 30-75
Motor For Screw Conveyor(kw): 5.5-7.5