Waste Paper Chain Conveyor Equipment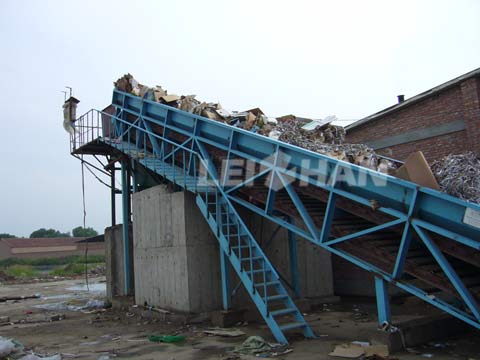 Chain Conveyor Equipment is for conveying various kinds of waste paper in paper pulping process, there are some tips about chain conveyor equipment installation and maintenance.
Chain Conveyor Equipment Installation
1. Out of box check: According to the packing list to check the chain conveyor equipment parts are complete one by one.
2. In accordance with the requirements of basic drawing, set centerline correctly, determine the axis position of active sprocket axis and the center position of tail wheel shaft. According to the center line of chain conveyor equipment, rack foot position, track installation position and longitudinal center position of driving device are determined. And correct the corresponding position size, with reinforced concrete pouring equipment foundation.
3. The foundation after a certain period of maintenance (usually 15 days), and correct, can install.
Chain Conveyor Equipment Maintenance
1. Often check the lubrication of chain conveyor equipment parts, regular refueling.
2. Reducer need to be replaced with new lubricantin after the beginning of operation 7-14 days, according to the circumstances can replace every 3-6 months.
3. The chain conveyor equipment should always check, the bolts should not be loose, motor shall not exceed the rated current, the bearing temperature exceeds the ambient temperature 35℃ should be shut down for inspection.