3400/350 Corrugated Paper Making Machine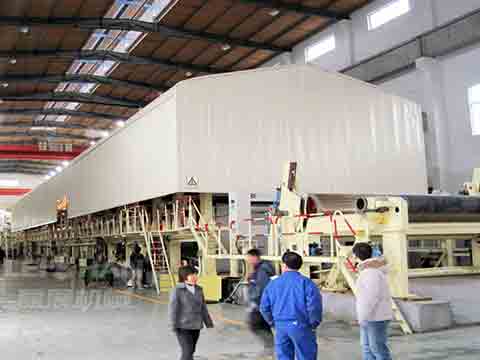 Generally speaking, customers adopt waste paper to produce kraft paper/corrugated paper, such as locc, occ. Therefore, our enginner designed 3400/350 corrugated paper making machine depend on the requirements from our clients.
From most of suppliers, more and more people use our equipment for their paper mill project. And in corrugated paper production line, we provide full set of machinery.
3400/350 Corrugated Paper Making Machine Specification
Raw material: OCC
Main paper kind: high-strength corrugated paper, kraft paper
Trimmed width: 3400mm
Basic weight: 90 – 180gsm
Working speed: 350m/min
Production capacity: 150t/d
Driving mode: AC motor frequency conversion speed subsection drive
If you need to use LOCC to make paper, or have other demands, our professional can make proposal for you. Tell us about your requirements in paper making project, we will supply technical details and attractive cost.
For more information about 3400/350 corrugated paper making machine, feel free to email or message us. Email: leizhanpulper@gmail.com