How To Install Chain Conveyor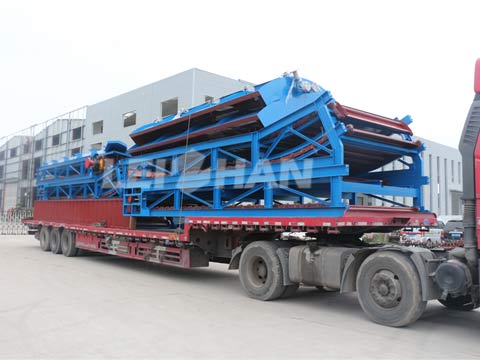 The chain conveyor Leizhan designs is adopt specially made chain drive one-time impact stamping, trough plate to convey material, which has advantages of large capacity, low consumption and high efficiency. Here introduce the installation steps of chain conveyor.
Chain Conveyor Installation Phase
1. For the installation of frame of chain conveyor, generally begins with head frame, then install every middle frame sequentially, and finally install tailstock. Before installing the rack, first pull the center line over the entire length of conveyor. Since keeping the center line of conveyor on the straight line is the important condition for the normal operation of conveyor belt, therefore, when installing the rack, the center line must be aligned and the shelf should be leveled.
2. The allowable error between frame and center line is ±0.1mm per meter. However, the error between chain conveyor entire length and frame center can't more than 35mm. Once all the blocks have been installed and aligned, the blocks can be connected.
3. In order to guarantee the reliable operation of chain conveyor, the most important thing is to find and eliminate the fault might to happen. So the worker should observe the operation of chain conveyor so that to deal with problems in time.
Leizhan provide all equipment of paper pulping line and paper making line, any interest with pulp and paper machinery, feel free to contact: leizhanpulper@gmail.com.