M.C. Pressure Screen Work Principle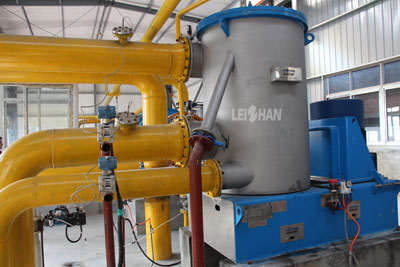 M.C. Pressure Screen is the pulp screening equipment for pulp coarse and fine screen in paper pulping process, with many advantages of high efficiency and energy-saving, etc, it's widely used in paper mill paper pulping line.
M.C. Pressure Screen Work Principle
The m.c. pressure screen is the equipment of continuous screening with pressure in a fully enclosed condition. During operation, the pulp enters the pressure screen upper part separation chamber along the tangential direction from the inlet pipe, the heavier impurities are separated under the effect of centrifugal force and settle into the heavy deslagging tank and discharged from the deslagging port. The pulp overflows the circular weir plate and enters the screening area between the screen basket and the rotary drum, the qualified pulp is discharged from accepts mouth through the screen basket, the unqualified pulp continue to move downward, discharged from the discharge pipe. There is a dilution water pipe opposite the discharge port in order to adjust the tailing pulp concentration. A large number of convex blades in the high-speed rotation cylinder surface inside screen basket, each blade will produce negative pressure when rotating, which play a role in cleaning the screen basket to . prevent blocking the screen basket.
M.C. Pressure Screen Advantages
1. The part contacting with the pulp is stainless steel 304
2. Automatic oiling device is Korea imported
3. Sealing Water Alarm Device is imported from Finland
4. Seal Water Alarm Device Sensor Made in Germany
5. Bearings NSK is Japan imports
6. Double-end mechanical seal is the Sino-US joint venture manufacturers supply
7. The screen basket is the best quality in China