Paper Machine Vacuum Press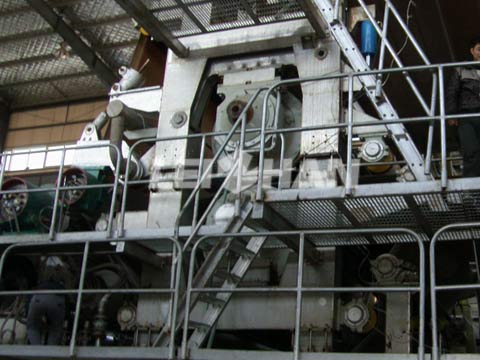 Vacuum press are widely used in medium-high speed paper machines, also an indispensable part of compound press. Here are the paper machine vacuum press roll structure and press characteristics.
Paper Machine Vacuum Press Structure
Generally vacuum press arrangement and its ancillary equipment are similar to ordinary press. However, the eccentricity of vacuum press is opposite to the conventional press, that is the press upper roller is offset by 50 to 60mm toward the exit direction relative to the lower roll. In order to remove moisture in press section, the vacuum chamber suction in the vacuum roll must be directed towards the feed side of the nip. Only in this way, felt and wet paper sheet firstly contact with vacuum roller, to achieve the seal effect for vacuum chamber nozzle, prevent the air entering into the vacuum system. So the felt is generally into the press section along the direction of the horizontal lower, and then by the direction of the horizontal lower away from the press section.
Paper Machine Vacuum Press Feature
Advantage: Vacuum press can remove more water from the wet paper, can improve the paper dryness compared with ordinary press, the paper is also less crushed, dehydration is more uniform along the wire section width, the felt can maintain a good stable state.
Disadvantage: The vacuum press also has its shortcomings, such as the roller strength is weakened, structure becomes complicated, due to the need of vacuum caused by increasing power consumption, resulting in noise pollution, may appear hole defect on paper.