Paper Recycling Pulping Machine Bale Breaker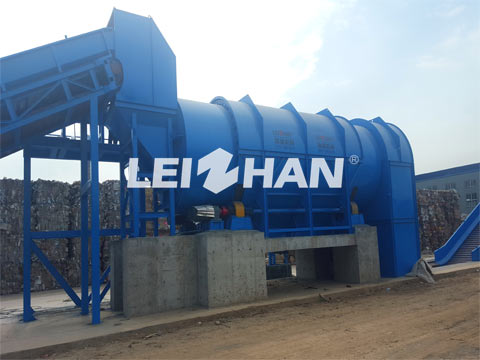 The inner wall of the bale breaker removing machine is fixed with a spiral piece along the spiral direction, and each of the long spiral pieces is fixed with six equidistant bump lifting objects. The inner spiral is used for importing waste paper from the inlet. Advancing toward the exit, and the bumps act to agitate and roll the bundle of waste paper to achieve the purpose of bulk.
The Role Of Dry Screening System
1.Distribute the densely packed waste paper into a sheet shape, reduce the amount of forklifts, and improve the efficiency of subsequent equipment;
2.Dry screening removes heavy impurities, reduces wear of subsequent equipment, and improves pulp quality;
3.Save waste paper picking and sorting labor, improve the use rate and appreciation space of classified waste paper.
Main Tech Para Of Bale Breaker
Type: SBJ3000-4000.
Nominal Diameter: Φ3000-4000.
Processing Capacity: 220-1200t/d.
Motor Power: 18.5×2-37×2.
Besides this pulping machine bale breaker, our company also supply other equipment, such as chain conveyor, pulper, cleaner, and pressure screen, etc. if you have interest, welcome to consult: leizhanpulper@gmail.com.