Pulp Disc Thickener Equipment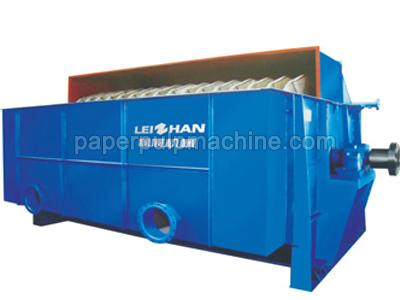 Pulp Disc Thickener Equipment is used in paper pulping process for low consistency pulp washing and thickening, it has the advantage of compact structure, large production capacity and easy to operation.
Pulp Disc Thickener Work Principle
Pulp Disc Thickener Equipment is mainly composed of sector plate, tank body and so on. The slurry flows into the tank body from the pulp inlet, and is continuously gathered on the sides of the sector plate through the partition, the disc is rotated to bring the slurry to the wire surface, scour off the plate slurry by high pressure water washing, and the filtrate from the headrace in the middle of the disc into the large axis and discharge out. With the continuous operation of the disc, the slurry concentration in the tank is increased due to the continuous discharge of the filtrate. When the liquid level in the tank is higher than the liquid level adjustment plate, the slurry overflows to the discharge container.
Contact us
Zhengzhou Leizhan Technology Paper Machinery Company
Office Add: Hetun Industrial Area, Dawei Town, Xinmi City, Henan Province, China
Email: leizhanpulper@gmail.com
Tel: +86 371 55129198
Fax: +86 371 86138029