Paper Product Machine Headbox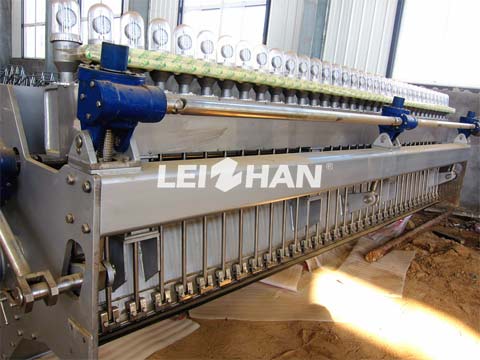 The pulper of headbox is square cone pipe feeding slurry and step hole plate arranging slurry. The leveling device is two homogenizing rolls with different opening ratios. The sprayed lip adopts joint upper lip (single/double joint), the lip is equipped with a vertical small lip, the precision worm gear box adjusts small lip fine adjustment device, and the upper lip has a maximum opening >70~ 90mm, easy to clean and maintain. The upper lip adjustment uses a manual worm gear box for smooth and easy operation.
Main Effect Of Headbox
1.Headbox can disperse fibers effectively, and high turbulence headbox produces high-intensity micro-motion, which can effectively disperse fibers, prevent fiber precipitation and re-flocculation, which can effectively increases the strength of paper.
2.Distribute the paper stock evenly along paper machine. (Determining the horizontal quantitative distribution of web).
3.Spraying slurry is stable, ensuring that the pulp speed is coordinated with web speed. (Determining the vertical quantitative distribution of web).
Leizhan is specialized in manufacturing pulp and paper machine as well as spare parts for almost four decades, so we are more professional. Our engineer team will help you design machine size and provide good after service for you. Welcome email me to consult. Email address: leizhanpulper@gmail.com.