Pulp Equipment Low Density Cleaner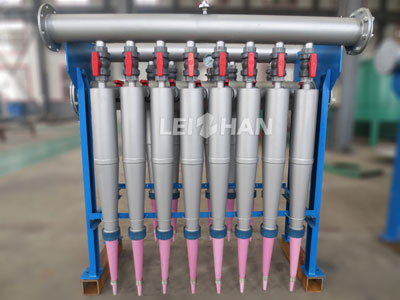 Pulp Equipment Low Density Cleaner is widely used for removing small heavy impurities, like gravel, scrap iron, dust and large ink particles from paper pulp in paper pulping process, the advantage of low density cleaner is high efficiency, easy operation and maintenance, long service life and so on.
Low Density Cleaner Work Principle
Rely on centrifugal force to separate waste impurities and fiber separation. When the pulp from the tangential direction into the cleaner equipment top, the pulp produce vortex movement, accelerate down in spiral along the cone. The movement of the vortex generates centrifugal force to move the impurity that is heavier than water to the inner wall of the cleaner equipment while the relative density is less than water move toward the core of the vortex.
Low Density Cleaner Operate Attention
1. Check whether the concentration, pressure meet the process requirements.
2. Observe the cleaner equipment discharge situation to avoid the cleaner equipment blockage.
3. Check the equipment installation stability before starting, whether the cleaner equipment are assembled in place, fixed well, fragile parts are cracked.
Contact us
Zhengzhou Leizhan Technology Paper Machinery Company
Office Add: Hetun Industrial Area, Dawei Town, Xinmi City, Henan Province, China
Email: leizhanpulper@gmail.com
Tel: +86 371 55129198
Fax: +86 371 86138029