250,000T/Y White Board Paper Making Project, Guangdong, China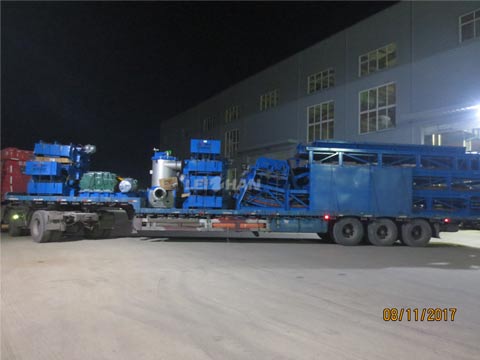 In November, Leizhan once again deliver the chain conveyor(1600mm), vibrating screen, inflow pressure screen equipment(1.5m2), etc for 250,000t/y white board paper making project, Guangdong, China. Actually, Guangdong paper industry order Leizhan complete paper pulping equipment for its 250,000TPY white board paper making.
Chain Conveyor& Vibrating Screen& Inflow Pressure Screen
Chain Conveyor: Mainly for conveying various kinds of raw material, like waste paper, pulp board, etc. Stable running, large capacity, high efficiency, low motor power, less wear.
Vibrating Screen: Mainly for pulp screening and removing various impurities. Good screening effect, easy maintenace.
Inflow Pressure Screen: Mainly used before paper machine for pulp screening. Small motor power, high production capacity, energy saving.
1.5m2 Inflow Pressure Screen
Screen Area: 1.5m2
Concentration Of Input Pulp(%): 0.4-0.8
Production Capacity(Screen Hole)(t/d): 110-160
Production Capacity(Screen Slot)(t/d): 80-120
Pressure Of Inflow Pulp(mpa): 0.1-0.4
Motor Power(kw): 30
Customer Information
Customer: Guangdong Paper Industry
Time: November, 2017
Project: 250,000T/Y White Board Paper Making Project