Chain Conveyor For Waste Paper Conveying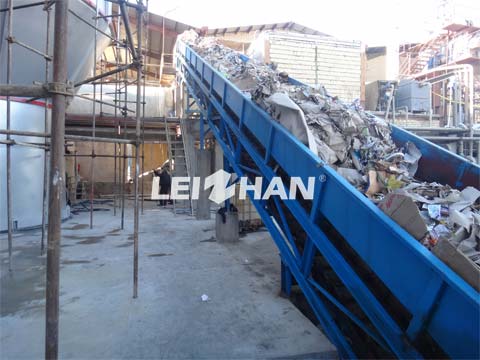 Conveyor system Chain Conveyor is mainly used for conveying various kinds of pulp board, waste paper in bulk and in bundle which can be horizontal conveyor or inclined conveyor. Thanks to the advantages of large capacity, low motor power, less wear, reliable operation and high efficiency, it becomes necessary equipment for paper plant.
What Features Chain Conveyor Have?
1. Adopt specially made chain drive one-time impact stamping, strong and durable with strong impact resistance.
2. Equipped with hard – toothed surface reducer and has high safety ratio.
3. The both sides of chain are provided with v-type protective plate, which can increase conveying capacity, and guarantee impurity won't slide off the roller, so the service life is prolonged.
4. There is a chain plate tightness adjusting device at the tail of machine, so as to avoid the occurrence of derailment after using for a period.
We are professional pulp&paper machine manufacture, supply full set of pulping line and paper making machine. If you want to build a paper mill, welcome to contact with us, our engineer team will design the detailed plan for you. Email address: leizhanpulper@gmail.com.