Fiber Separator In Pulping Line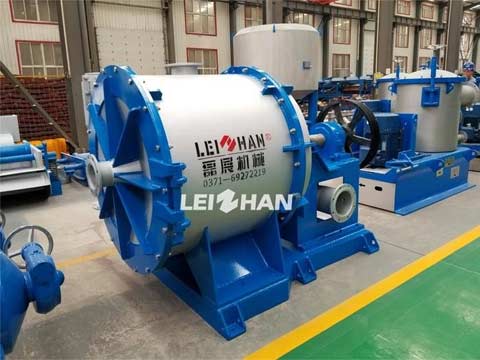 ZDFD Series single effect fiber separator machine Leizhan supply amounts to a combination of one sealed horizontal hydrapulper and a light & heavy impurity cleaner. This Fiber Separator adopts compact structure and has high efficiency, it has functions such as pulp beating, impurity removing, coarse screening etc, so simplifies the process of dealing with wasted paper greatly, as a result reduces the energy consumption.
Fiber Separator Structure
Cylinder body: Cylinder consists of two parts, cylinder body and cleaner, these two parts are connected with heavy impurity outlet pipe. Impellers revolve close to sieve plates, pulp go through pulp inlet (close to sieve plates) tangential direction and generate swirl in cylinder.
Impeller: Impellers are inclined straight tooth, when revolving, they will generate strong centrifugal force, which causes negative pressure between cutter and sieve plates. By doing this, sieve plates will be cleaned thoroughly, at the same time, heavy and light impurities will be pulled to front cover direction.
Separator Main Technical Parameters
Capacity: 50-500t/d
Concentration Of Input Pulp: 2-4%
Pressure Of Input Pulp: 0.15-0.20mpa
Pressure Difference: 0.03-0.05mpa
Any interest with pulping system line and paper making machine, feel free to contact: leizhanpulper@gmail.com.