Kraft Paper Making Line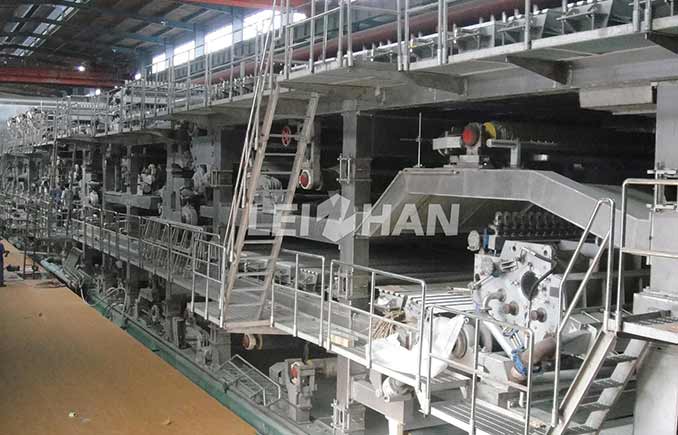 Zhengzhou Leizhan Company is a professional manufacturer of Paper&Pulp equipment, it provides high quality kraft paper making machine for customers, and the production are praised by many customers and paper making industries.
Pulping Preparation of Kraft Paper Making
First, the raw material will be conveyed into pulp machine to pulp; Second the pulp will get into the High density cleaner for removing heavy impurities; Then the pulp will be conveyed into the pulp screening machine for pulp screening(coarse and fine screen); Furthermore, the pulp will be transported into the pulp refining machine for producing high quality pulp; Finally, the pulp will enter the Inflow pressure screen for final processing and then it will be conveyed into paper machine for papermaking.
Paper Making Process of Kraft Paper Making
The pulp is conveyed into wire section by flow slurry box to form wet paper and get dehydration, and then the wet paper will get into press section to improve dryness, after pressing,the paper get into drying section to get further dehydration and strength the density and intensity.
Paper Making Machine
Conveying Machine: Chain Conveyor
Hydrapulper Machine: D Type Hydrapulper/ Drum Pulp/ M.C. Hydrapulper
Pulp Cleaning: High Density Cleaner
Pulp Screening: Mid Consistency Pressure Screen,Inflow Pressure Screen
Pulp Refining:Double Disc Refiner, Conical Refiner, Claflin Refiner
Contact us
Zhengzhou Leizhan Technology Paper Machinery Company
Office Add: Hetun Industrial Area, Dawei Town, Xinmi City, Henan Province, China
Email: leizhanpulper@gmail.com
Tel: +86 371 55129198
Fax: +86 371 86138029