Energy Saving Mid Consistency Pressure Screen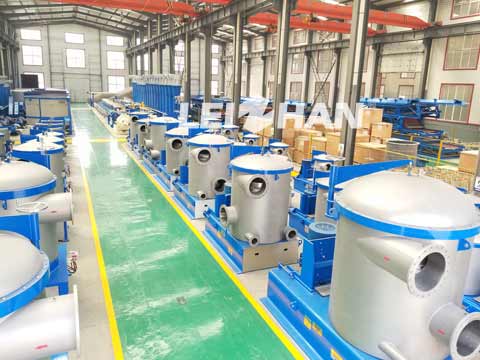 Pressure screen is a convenient equipment for paper pulping process.The mid consistency pressure screen provided by our company Leizhan is mainly used for coarse and fine screening of various waste paper, which has many advantages of high efficiency, enery saving and long service life. More details are as follows.
Advantages And Features Of Mid Consistency Pressure Screen
1. Reducing the amount of water cycle and system energy consumption in production process.
2. The part contacting with the pulp is stainless steel.
3. Double-end mechanical seal is the Sino-US joint venture manufacturers supply.
4. Advanced structure, sturdy and durable, less loss of fiber.
5. Easy to operate, less malfunctions for continuous working.
6. Automatic oil injection device can reduce maintenance.
Our company Leizhan is a leader in paper machine for 40 years. Specialized in designing, manufacturing and developing pulp and paper making machine. Over the years, we keep providing customers with a full range of services including factory design, equipment installation, commissioning and training. If you have any interests, welcome to email us. Email address: leizhanpulper@gmail.com