1200mm Napkin Paper Making Project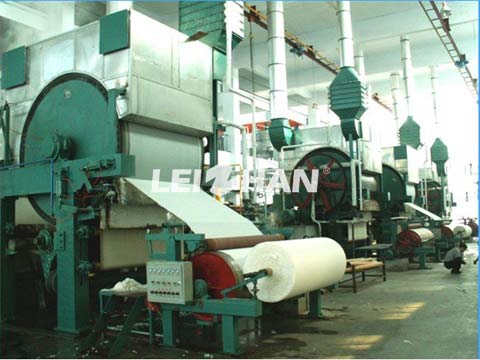 1200mm napkin paper making machine is an advanced paper product equipment with 1.5-3t/d production capacity, which is equipped with one speed regulating motor of 7.5KW-15KW.
Machine Technical Description
Raw materials: raw pulp, waste newspapers, white paper, etc.
Net paper width: 1200mm
Machine speed: 40-120 m / min
Quantitative measurement: 15-40 g/m2
Production capacity: 1.5-3 t/d
Net cage specifications: φ1000 – 1250mm × 1450mm (stainless steel wire mesh cage)
Dryer specification: φ1500-2500mm×1450mm (cast iron alloy drying cylinder)
Track distance: 1800mm
Transmission mode: reducer drive
From pulping to paper forming and paper rewinding, Leizhan supply complete sets of pulping system and paper making machine. With the features of high quality and low consumption, our paper machine has been sold in many countries all over the world, welcome to consult if you have any interest. Email address: leizhanpulper@gmail.com.