Less Cost 5T/D Tissue Paper Making Machine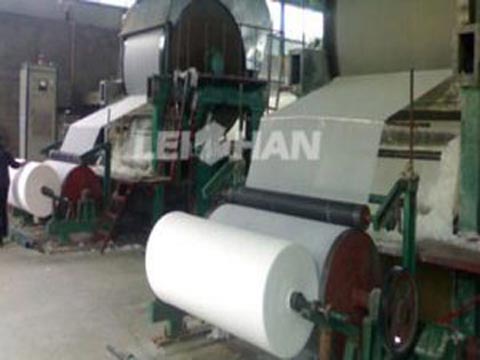 Wood pulp, white shavings and other materials can be applied as raw materials to produce tissue paper, etc. For paper mill, our less cost 5tpd tissue paper making machine bring perfect results and huge profits, and we also provide complete tissue paper production line machine including paper pulping equipment.
5T/D Tissue Paper Machine Specification
1. Raw material: wood pulp, white shavings, waste newspaper, etc.
2. Paper grade: tissue/toilet/facial/napkin paper
3. Production capacity: 5t/d
4. Trimmed width: 1575 – 2880mm
5. Basis weight: 13 – 40gsm
6. Operating speed: more than 180m/min
According to your requirements, we can provide less cost 5tpd tissue paper making machine and stock preparation line machine for your paper mill project. Please contact us for full pricing and details.
Our email: leizhanpulper@gmail.com