Tissue Paper Making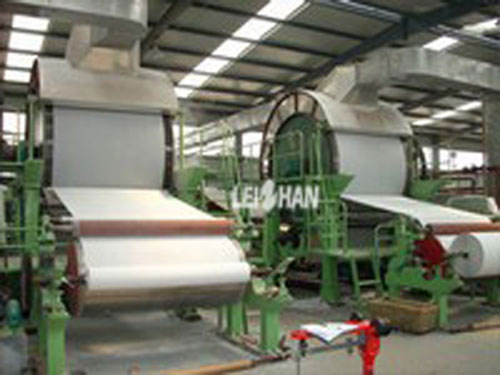 Tissue Paper usually made by wood pulp, it's largely produced in paper mills for its universality and using in daily life, at the same time, tissue paper quality is very important for paper making mills.
Tissue Paper Quality Evaluation
1. Appearance: The tissue paper should be clean, when used the paper should not have serious hair loss, powder loss phenomenon;
2. Whiteness: The tissue paper whiteness is related to the raw materials, such as the choice of cotton pulp and wood pulp;
3. Water Absorption: The tissue paper absorption for water, the sooner water absorption, the better;
4. Tenacity: The tissue paper should have a good tenacity, not easy to break;
5. Softness: Softness is vital for tissue paper, good tissue paper should give people a soft and comfortable feeling;
Tissue Paper Making Machine
Tissue Paper Making Machine use commodity wood pulp as material to make High-grade household Paper, such as tissue roll, napkin tissue, facial tissue, kitchen toweland so on.
Trimmed Width(mm): 1575-3600
Basic Weight Range(GSM): 13-40
Operating Speed(m/min): 180-800
Production Capacity(TPD): 5-50