4400mm Coated White Paperboard Machine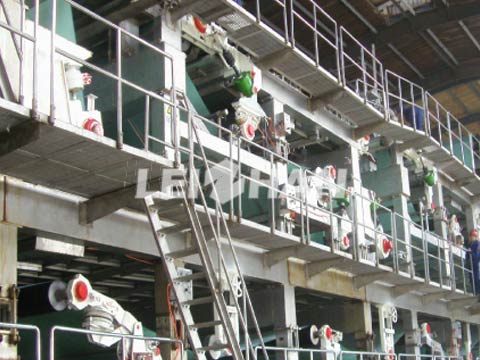 Five-wire coated paperboard machine, with 4400mm net paper width, mainly used for copying coated paperboard. The 4400mm coated white paperboard machine is mainly divided into the following parts: heabox, long wire section, pressing part, front drying section, oblique surface sizing machine, rear drying part, inner coating, calender part, coiling part.
4400mm Coated Paper Machine Main Tech Para
Product kind: excellent coated white paper
Copy quantity: 230~400g/m²
Net paper width: 4400mm
Working speed: 600m/min
Design speed: 650m/min
Balance speed: 700m/min
Transmission mode: AC variable frequency control sub-transmission
Main drive power 5579kW (excluding coating, calendering, sizing)
Production capacity: 800t/d
Besides, Leizhan supply kraft/corrugated/toilet/culture paper machine with complete pulping system line for paper makers to start paper business. Any inquiry, feel free to contact: leizhanpulper@gmail.com.