45TPD Coated Board Paper Manufacturing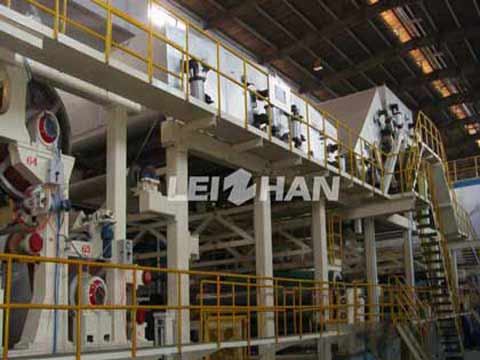 We supply 45tpd coated board paper machine in paper production line. The coated board paper machine is mainly applied for producing coated board paper with excellent output paper, which is energy saving, low cost and high efficiency, etc.
Coated Board Paper Making Details
1.In order to produce excellent coated board paper, waste paper or cardboard should be dissolved into pulp.
2.First of all, the waste paper can be transported to pulping equipment such as a drum pulper or a D type hydrapulper through a chain conveyor for pulping.
3.Second, impurities are removed through a series of raw material cleaning and screening equipment. Such as: high density cleaner, low density cleaner, inclined screen, pressure screen, etc.
4.Finally, waste paper, cardboard and other raw materials are turned into fine pulp after a series of screening and deslagging, and are transported to the headbox for papermaking.
Leizhan company has professional engineer group that could design the coated board paper depend on your requirement, welcome email us for details.
Our email: leizhanpulper@gmail.com