Pulp Chest Agitator For Paper Recycling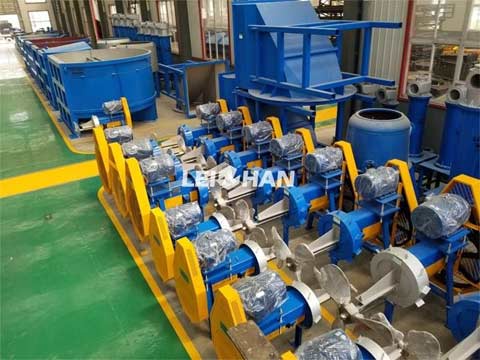 In paper making industry, pulp chest agitator is mainly used to stir pulp cyclically in the slurry chest to maintain the pulp liquid in suspending condition, which ensure the pulp components even distribution. With advanced blade design and strong thrust, it can be adjusted the angle according to the concentration of the slurry.
The Structure Of Pulp Chest Agitator
1. JB series agitator composed of cycloidal pinwheel reducer, support, chassis shaft seat, and mixing pulp, etc. The mixing pulp is reaches 8-11 r/min after the cycloid needle wheel reducer slowing down.
2. The whole machine is installed on the top surface of pulp chest and fixed by anchor bolt. In order to prevent swing, the end of shaft head under the mixing shaft is supported radially.
3. The mixing pulp is made of two channel steel and fixed on the mixing shaft. The entire surface can be galvanized or do other antirust treatment according to the requirements of users.
Leizhan provide all equipment of waste paper pulping line, which is low consumption and high efficiency. Any inquiry, be free to contact me: leizhanpulper@gmail.com.