Air Delivery System In Papermaking Line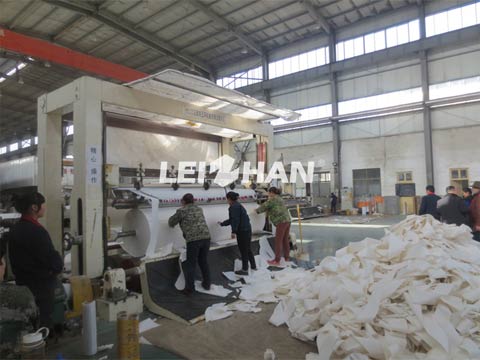 In the process of rewinding paper, some of damaged papers are directly pumped from the pipe next to rewinder, this part is called air delivery system. Then how do connect the damaged paper to the pulper? And where is the shredded slurry delivered to the pulping plant? You will find answers from this article.
Delivery Process
1. The cutting edge on both sides of rewinder is fed into the centrifugal fan with the cutting blade through the air duct (in the pit, not visible on the ground), and then sent to pulper next to rewinder through the air duct (into the pulper). Before passing through the cyclone separator, the paper edge enters pulper downwards. After separating the paper edge, the air continues to pass through air duct and is sent out of the workshop and discharged into the atmosphere.
2. The drying damaged paper of rewinding machine is generally disintegrated and screened (according to the situation), concentrated, and enter into the slurry chest, then transferred to copy front slurry chest of paper machine.
3. The head of pulp pump is determined by position, drop and condition of the pipeline, and the head should be in 15-25m.
Any question or interest, welcome to consult: leizhanpulper@gmail.com.