Cylinder Mould Paper Making Machine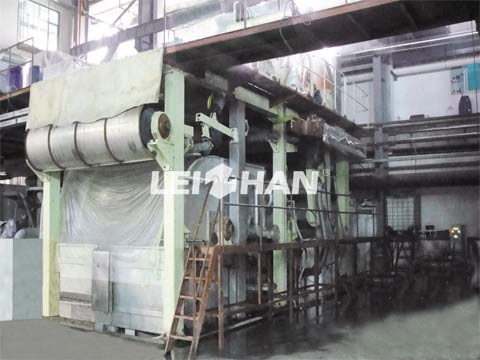 Cylinder mould papermaking machine is often used in culture and package paper production line, and with the features of simple structure and low cost, cylinder mould papermaking machine is mostly adopted by small and medium-sized paper mills. And the wire section of cylinder mould papermaking machine consists of three parts: opening headbox cage, wire groove and volt roller.
Constitute Principle Of Wire Section
1. The cage is composed of two layers of copper mesh on the cylindrical surface of metal cage, and the inner net is generally 8-16 mesh, its function is to make the net surface smooth and disperse the pressure of volt roller, and the outer net is generally 40-80 mesh, which is used to filter paper material and form wet paper sheet by cylinder mould papermaking machine. The wire slot is composed of diffuser, headbox, directional arc plate, movable arc plate, overflow slot, white water tank and so on.
2. Wire groove is the core of cylinder mould section, and it has an great effect to ensure the quality of finished paper.
3. The volt roller is an part that drives wet paper and completes dehydration.
Leizhan supply full set of package/toilet/culture paper making line, from pulping to reeling. If you have any demand with pulp or paper machine, welcome to consult for more quotation: leizhanpulper@gmail.com.