High-speed Stock Washer In Pulping Line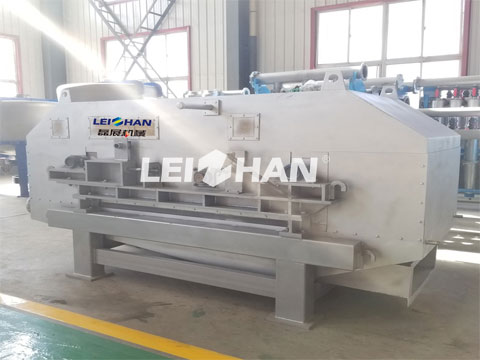 Pulping equipment High-speed Stock Washer has the effect of remove ink particles, fillers and other small impurities from the slurry with high efficient. With the features that high efficiency of impurities prolapse, high efficiency dewatering and less occupied area, large production capacity, low power consumption.
Washer Operation Failure And Solution
1) Excessive pulp level or low speed:
a: The spray water pressure is too low to reduce slurry flow rate.
b: The nozzle is blocked, check the water supply pipe, nozzle and spray water pressure.
c: The amount of outlet pulp is small and the amount of inlet pulp is large.
2) Thin or no slurry on the top layer pulp:
a: The slurry concentration is too small.
b: The nozzle or fan is clogged, check the spray water pressure, check if the filter bag is clogged, and remove any dirt on the filter bag.
c: The slurry has a high degree of freeness and is filled with more low freeness slurry.
If you have idea to set up paper pulping line to manufacture paper, welcome to consult us. Our engineer team will help you design production plan. Email address: leizhanpulper@gmail.com.