200TPD Fireworks Paper Making Line, Jiangxi, China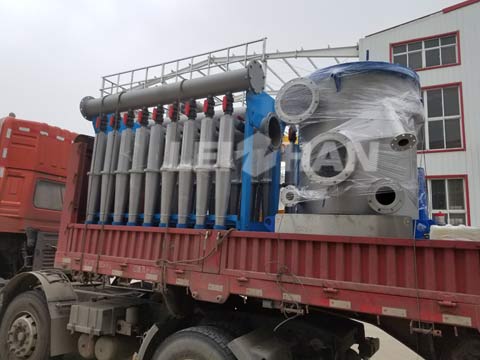 For 200tpd fireworks paper making project, Jiangxi, China, in Aug, 2017, Leizhan deliver the fireworks paper pulping equipment to Jiangxi paper industry. This deliver equipment mainly contains 1.5㎡ M.C. Coarse Pressure Screen, Low Density Cleaner and Agitator.
1.5㎡ M.C. Coarse Pressure Screen Equipment
Type: ZNS1.5
Screen Hole Size(mm): Φ1.6-Φ3.5
Production Capacity(t/d): 200-380
Inlet Pulp Consistency(%): 1-4
Motor Power(kw): 55-132
Low Density Cleaner& Agitator
Low Density Cleaner: Mainly used for removing heavy impurities in the pulp like gravel, scrap iron, dust and large ink particles; The bottom of cone is ceramics cone, wear-resisting, it ensure the equipment long service life.
Agitator: Mainly used to stir pulp cyclically to maintain the pulp liquid in suspending condition; Impeller is stainless steel, two spindle, easy for assemble or unload; Advanced blade design, strong thrust. It can be adjusted the angle according to the concentration of the slurry.
Customer Information
Customer:Jiangxi, China
Time: August, 2017
Project: 200T/D Fireworks Paper Making Project