150t/d Duplex Paper Making Equipment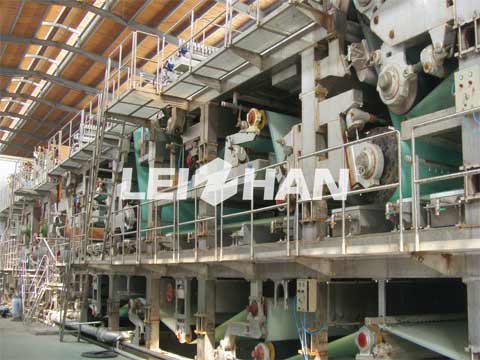 This Grey duplex paper making machine mainly used to produce Kraft liner paper/ duplex paper rolls, etc. And full production machine is ready for paper marker to creat paper making business.
Paper Making Process In Paper Recycling Line
Raw materials (waste paper)——pulper——vibrating sieve——pulp tank——pulp pump——bleach machine(thruster)——refiner machine——pulp tank——pulp pump——pressure sieve——pulp tank—— pulp pump——except sand machine——net box——cylinder——blanket——paper making machine——drying——roll paper——the big finished jumbo paper —— process machine
If you want to produce kraft paper, corrugated paper, etc. Welcome to consult, our engineer team will design the whole production line for you. Email address: leizhanpulper@gmail.com.