150tpd T Paperboard Making Equipment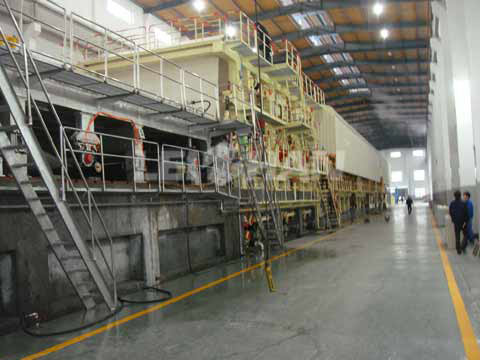 The T Paperboard Making Machine is applied to produce T paper and paperboard of 150tpd capacity, which is an energy-saving paper production line for paper plant to start T and paperboard making business.
3800mm T Paper Machine Details
Paper type: T paper, Paperboard
Clear width: 3800mm
Gram weight: 110-200gsm
Working speed: 100-180m / min
Designed speed: 200m / min
Production Capacity: 150tpd
Gauge: 4800mm
Net width: 4200mm
Drive mode: AC variable frequency drive
Power: 647KW
According to the feedback of our customer, the T paper produced by this 150tpd T Paperboard Making Equipment has good smoothness. So, if you want to produce T Paperboard with small capacity and high quality, 150tpd T Paperboard Equipment is an ideal machine.
Email address: leizhanpulper@gmail.com.