1575mm Cylinder Mould Type Tube Paper Machine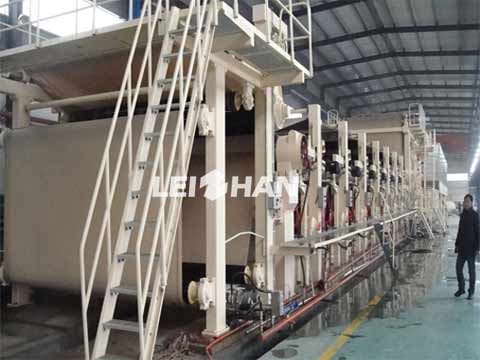 This 1575mm Cylinder Mould Type Tube Paper Machine is divided into the following parts: cylinder mould part, return back press size part, press part, drying part and reeling part. It can produce 50ton tube paper perday.
Tube Paper Machine Structure
1. Cylinder mould part: the cylinder mould part is equipped with seven cylinders.
2. Return back press part: in the wire part return back position, set the vacuum return back 1st press.
3. Press part: divided into 1st press, 2st press, 3st press.
4. Drying part: Φ1500 / Φ1800 dryer cylinder, sub-drive.
5. Reeling part: pneumatic horizontal reeling machine.
Detailed Tech Para Of Machine
Paper Grade: Yarn Tube Paper
Trimmed Width: 1575mm
Basis weight: 350g/m²
Operating speed: 80m/min
Production Capacity: 50t/d
Any interest, please contact: leizhanpulper@gmail.com.