Cardboard Paper Making Line Machine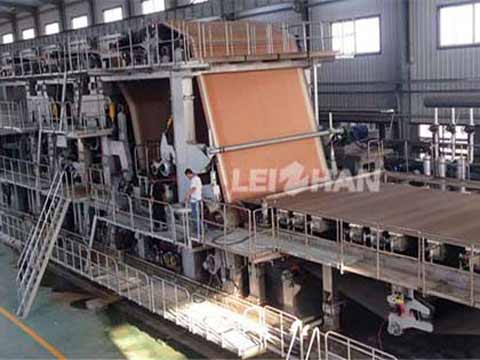 Regarding cardboard paper production, Leizhan can supply whole sets of cardboard paper making line machine, including cardboard paper pulping machine and cardboard paper making machine.
Cardboard Paper Making Line Machine Details
Headbox: Two sets of open headboxes, corresponding to surface wire and bottom wire respectively.
Wire part: Main components: master roll, forming plate, dewatering plate, vacuum box, composite roll, vacuum couch roll, driving roll, guide roll and frame.
Press part: Divided into one press and two presses. The first press and the second press are both large-diameter presses, each with upper and lower rubber-covered metal rolls, and upper and lower felts. Both the primary press and the secondary press are equipped with felt rolls and felt suction boxes. One-pressure and two-pressure pressurization methods pressurize the hydraulic cylinder.
Drying part: Equipped with guide roll and drying wire. Equipped with closed gas hood.
Roll paper part: Pneumatic horizontal roll paper, pressurized by cylinder.
If you are interested in our cardboard paper making line machine,, please feel free to email us. Our email: leizhanpulper@gmail.com