Double Disc Refiner For Pulping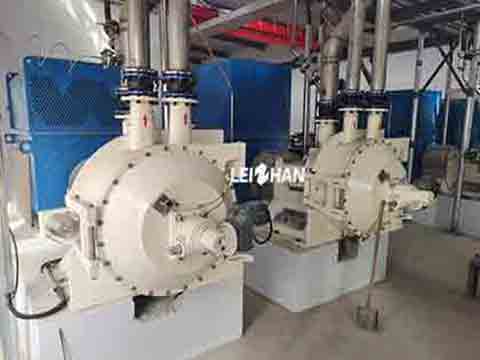 As a manufacturer, we supply double disc refiner for paper pulping in paper mill project. It has advantages of perfect beating degree, energy-saving effect and great cost.
Double Disc Refiner For Pulping Line
1. Application
Double disc refiner is mainly used for pulping, improving slurry beating degree to meet paper making needs.
2. Some information
Type: RF series
Disc diameter: 20-24, 26-30, 34-38, 42-48, 52-58mm
Range of op.consistency: 3.5 – 6.0%
Certification: ISO, CE, etc.
Features: Suitable for different kinds of raw material, such as wood pulp, mechanical pulp, chemical pulp, waste paper pulp, etc.
Our double disc refiner has been used for various kinds of pulping and paper production line in paper mill, such as tissue paper, kraft paper, corrugated paper and cardboard paper project.
About price and details, welcome to email or message us. Our email: leizhanpulper@gmail.com