Paper Pulping Machine Drum Screen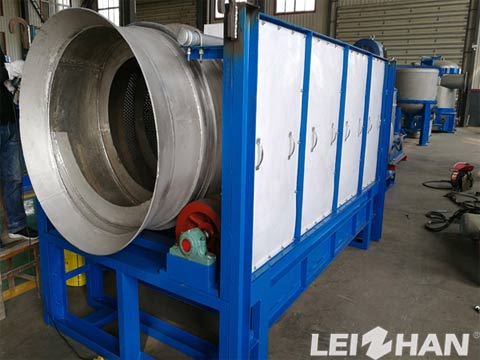 Drum Screen is mainly composed with screen drum, box, gear adjustable-speed motor, spray pipe, etc. There are helical blade within screen drum, which has the conveying effect for impurities. This pulping equipment drum screen has the advantages of good screen effect, low power consumption, simple structure, convenient to repair.
Drum Screen Machine Internal Structure
The light containing with stock enter screen drum from inlet mouth, with the effect of gravity, fine pulp discharges with screen hole from fine pulp mouth. The light impurities was conveyed to screen drum tail and discharged by the helical blade within drum screen. Water spray system is installed in the two sides screen drum's inside. On the one hand clean the slurry within impurities, on the other hand wash the screen drum and keep the screen hole fluent.
Screen Equipment Maintenance Method
1.Periodically lubricate equipment, every three month oil lubricating grease once; clean and change oil once every year.
2.Regular check bearing seal, change seal in time when discover oil leak phenomenon.
3.Regular check spray pipe, dredge it in time when discover blocking.
4.Every two years totally clean and check once.
Leizhan is professional at manufacturing complete pulping equipment and various kinds of paper machine, if you are interested in this drum screen or other paper pulping machines, feel free to contact: leizhanpulper@gmail.com.