Stock Preparation Line Machine For Krafte Paper Making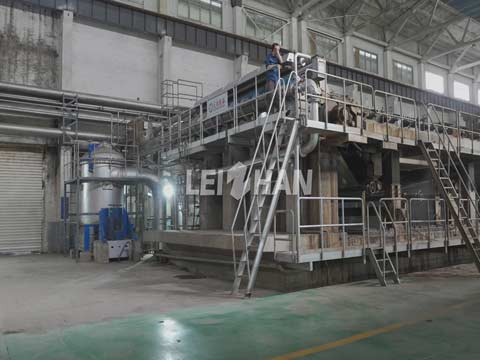 Many clients want produce kraft paper and adopted our kraft paper making line machinery for their kraft paper mill. Leizhan company can provide you with all kraft paper production line equipment, including stock preparation line equipment and kraft paper making machine.
Stock Preparation System Details
1. D type hydrapulper:Mainly applied for deslagging different pulp board ,broke and other wasted paper.
2. High density cleaner: Mainly applied for removing all kinds of heavy impurities in paper pulp, like staples, stone,
glasses,etc.
3. Mid consistency pressure screen: mainly applied for coarse and fine screening of various waste paper pulp.
4. Reject separator: Mainly applied to fiber relief and impyrities sepaprate for tailing in the coarse screen system
for waste paper pulp.
5. Inflow pressure screen: Inflow structure, low pulpse, good effect of homogenate. Small motor power, high production
capacity, energy saving.
6. Pulp pump: Mainly applied for transporting liquid or solid material in paper making.
Leizhan is always focus on providing optimum machinery and services oriented on your requirements. No matter what production capacity you want to produce, our stock preparation line equipment could make you satified.
Any problem in paper making process, welcome to contact us for more details.
Our email: leizhanpulper@gmail.com