Dry Cylinder For Paper Machine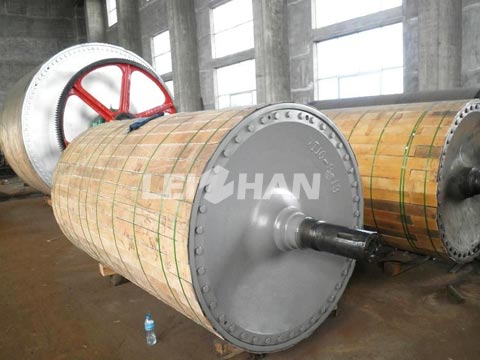 In a paper machine, there are dozens of drying cylinders placed crosswise, which are used to continuously dry the paper blank after forming the pulp. The outer diameter of the dryer drum is mostly 1000-3000mm, Leizan can customize the type of dryer drum according to customer requirements.
Dry Cylinder Of Paper Machine
1.The material used to make the dryer is mostly HT200, HT250. In the manufacturing quality requirements are not allowed to have penetration and excessive blisters.
2.A rotatable shaft is arranged on both ends of the head, and steam used for drying paper is passed through a hole in the hollow shaft at one end.
3.There is also a scoop for collecting water to send the condensed water to the other end of the hollow shaft for discharge.
4.Drying cylinders generally use cast iron and polish the outer surface. The characteristics of the multiple graphite sheets in the cast iron can easily separate the blank from the cylinder surface, so that the paper is not stuck when the paper is baked.
Leizhan company provides a full set of pulping equipment, paper machine and spare parts. Our dryer cylinder has been used in many paper mills.If you're interested, welcome to contact us.
Email: leizhanpulper@gmail.com