Paper Pulp Cleaning Equipment In Paper Plant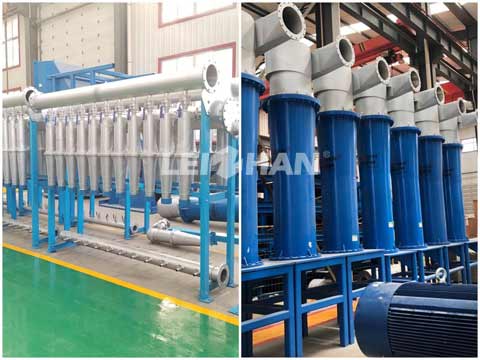 Paper pulp cleaning machine plays an vital role in paper production line for it could be able to discharge impurities outside, reduce fine fiber loss and improve pulping efficiency. Leizhan offers complete set of paper and pulp equipment. There're high density cleaner and low density cleaner to remove heavy impurities, but they are applied in different stage in pulping line. More details are as following.
Paper Pulp Cleaning Equipment Details
High Density Cleaner is used for removing stones, glasses and staples to reduce the burden of following machine. Leizhan designs different series of it based on different raw material and finished paper kind. The excellent design and high performance of high density cleaner makes the accepted stock and impurities separate thoroughly.
Low Density Cleaner has open type and closed type with different deslagging way to meet different working environment. The machine can be devided into 3-4 parts, which makes the installation, check, replace and maintenance more convenient. The bottom of cone adopts wear-resistant resistant, ensures the stable deslagging and long service life.
Apart from paper pulp cleaning equipment, Leizhan also designs and manufactures all kinds of paper&pulping machine for our customers. Any needs, feel free to email us.
Email: leizhanpulper@gmail.com