3-5 T/D Toilet Paper Making Equipment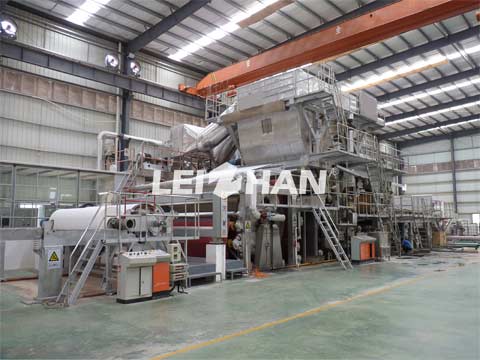 When we choose paper machine to produce toilet paper, most of us are curious about its operation ability, such as raw material, product capacity and working speed, etc. The following is what i want to introduce about this small type paper making machine.
Tech Para Description About Machine
Raw material: virgin pulp, waste newspapers, white paper, etc.
Production varieties: toilet paper, napkin paper, facial paper.
Net paper width: 1750 mm
Speed: 100-150 m/min
Quantitative measurement: 15-40 g/m2
Production capacity: 3-5 T/D
Net cage specifications: φ1250-1500mm × 1950mm (stainless steel wire mesh cage)
Dryer specification: φ1500-3000mm×2000mm (cast iron alloy drying cylinder)
Track distance: 2400mm
Transmission mode: reducer drive
The whole set of toilet paper making machine and pulping system can be provided by our company. If you have any interest or question, kindly email me for more details and price. Email address: leizhanpulper@gmail.com.