Automatic Toilet Paper Rewinder Machine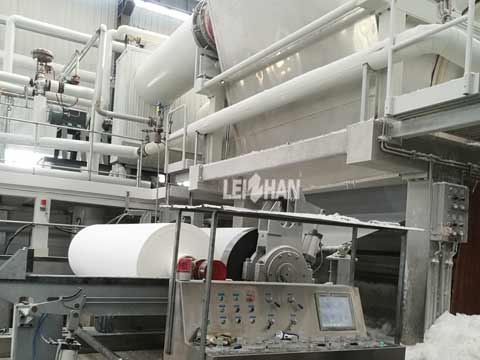 This automatic toilet paper rewinder machine owns automatic paper tube changing device, and does not need to manually penetrate paper tube, and the finished product is automatically sent out after finishing rewinding. Then the rewinder is reset immediately, and the paper tube of any size can be freely adjusted within 1 minute.
The Features Of Rewinder Machine
1. The automatic trimming, glue spraying and sealing synchronization are completed once, and the finished product has 10-18mm paper tail, which is convenient to be used, and reduces the loss of paper tail during the production of ordinary winder, so reducing product cost.
2. Adopt advanced PLC programming technology. Man-machine dialogue control, production parameter fault screen display.
3. High-precision spiral soft knife, low noise of 4-knife punching, clearer punching, and large adjustment range of gearbox.
4. Three-layer horizontal paper-removing frame, pneumatic paper, pneumatic wide-belt paper feeding, and each roll of original paper has independent adjustment devices.
5. The embossing device adopts a point-to-point double-sided embossing system to make the effect of finished double-sided is uniform, soft to the touch with clear and beautiful embossing.
6. The front and rear jog switches are used to pull base paper, which makes the operation easier and safer.
Any inquiry with machine, be free to contact: leizhanpulper@gmail.com.