Paper Making Rewinder Machine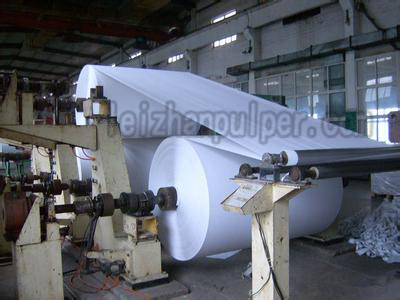 Paper Making Rewinder Machine is used for slitting the initial paper roll on the paper machine, and rewinding into required width and tightness of the finished paper roll, it's vital for finished paper quality.
Paper Making Rewinder Machine Work Principle
Paper rolls are taken down from reeling machine and put them on the unreeling stand. The unreeling stand is equipped with alternating-current generator. Optical-electricity encoder control the system constant tension by using tension sensor and it can stop quickly when paper breaks. The put paper roll downward lead to paper web along the paper guiding roll. By using curved roll, the paper enter the slitter equipment.After tension sense roll, another curved roll, the paper wind on the paper roll holder. The paper roll holder depend on the drive of supporting roll and turn around. Then the whole paper web go forward.
Paper Making Rewinder Machine Function
1. At work, with the increase in the volume diameter, the torque difference of rear winding drum and fore winding drum also changes,controlled by the PLC control cabinet(Can be set)
2. When the diameter of eject paper roller decreases, the eject paper roll speed detection will automatically slow down. (Can be set)
3. When the diameter and length of finished paper roll reach the standard after test, the working speed into the slow state. (Can be set)
Contact us
Zhengzhou Leizhan Technology Paper Machinery Company
Office Add: Hetun Industrial Area, Dawei Town, Xinmi City, Henan Province, China
Email: leizhanpulper@gmail.com
Tel: +86 371 55129198
Fax: +86 371 86138029