Paper Smoothness Influencing factors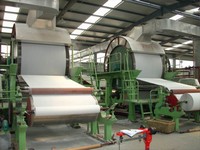 Paper smoothness is an important standard for evaluating paper quality, which is very vital in paper making process.There are many factors that affect paper smoothness, such as fiber morphology, pulp beating, wet pressure,filling and coating,etc.
Fiber morphology: Fine fibrosis is high, the fiber is tightly bonded, the smoothness is high; the short fiber is easy to fill and the gap formed by the long fiber, so that the paper has a good smoothness.
Pulp beating quality: In the same beating conditions, improve the pulp of the beating degree,can increase the fiber between the binding force, made of paper surface is more smooth.
Filler: The good smoothness with good filler fineness,and the more the filler is added within the allowable range of the strength, the higher the paper smoothness is.
The effect of the dryer: The smoothness of the dryer surface has a great impact on the smoothness of the paper, especially when the sheet enters the dryer, the surface is not yet fully shaped, the smooth surface of the dryer will give the paper better smoothness.
Contact us
Zhengzhou Leizhan Technology Paper Machinery Company
Office Add: Hetun Industrial Area, Dawei Town, Xinmi City, Henan Province, China
Email: leizhanpulper@gmail.com
Tel: +86 371 55129198
Fax: +86 371 86138029