Tissue/Toilet Paper Roll Production Line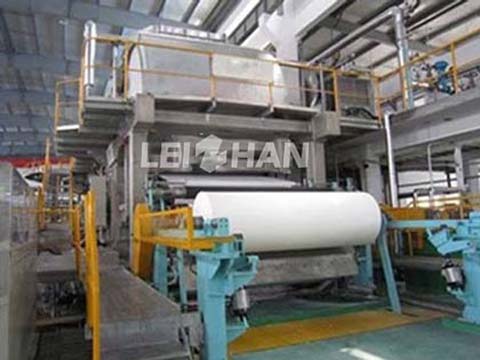 Leizhan company supplies tissue/toilet paper roll production line machine with high quality and less cost. Moreover, we also have a complete set of paper machine spare parts.
Tissue/Toilet Paper Roll making line
Forming part: After the fine pulp enters into the headbox, it will be spreaded along the felts evenly.
Pressing part: To squeeze out as much water as possible in pulp by pressing felts which attached on the press roll.
Dryer part: Dryers work in group to ensure it can be operate at a gradually slower speed to compensate for paper shrinkage as the paper dries. It will discharge the water content down to a level of about 6%.
Sizing part: Sizing prevents bleeding of ink during printing, improving printing properties and surface bond strength.
Calendering part: Calender helps to make the surface of sheet more smooth and glossy. What's more, it ensures consistent thickness of paper.
Rewinding part: To shape the paper sheet into rolls to make it easier for shipping and conveying and use slitter to cut the product into multiple strips to fulfil customers' needs.
Our company's tissue/toilet paper roll production line machine is on hot selling. Welcome to email or message us.
Our email:leizhanpulper@gmail.com