Paper Machine Pneumatic Conveying System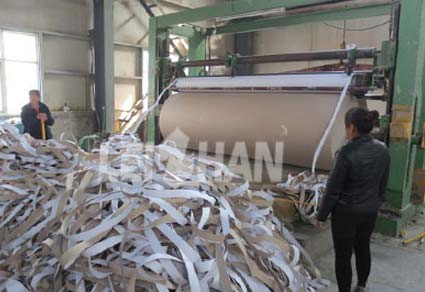 Paper Machine Pneumatic Conveying System is for pumping the broken paper into broken paper pulper equipment in paper making process. So how the pneumatic conveying system works? And where is the broken paper slurry?
How The Pneumatic Conveying System Works?
The both sides trimming of rewinder machine through the duct is send into the centrifugal fan with cutting blade (in the pit, can not see on the ground), and then into the pulper equipment near rewinder machine by the duct (Before the pulper equipment need to go through the cyclone separator, the paper down into the pulper equipment, the air after separating the paper is continue through the duct forward, sent out of the workshop, and into the atmosphere).
Where Is The Broken Paper Slurry?
The Rewinder machine dry paper, usually is after pulping, defibering(according to the situation), screening (according to the situation), thickening, will into the pulp chest, and then transferred into the pulp pool before paper machine.