Paper Making Corrugated Board Product Line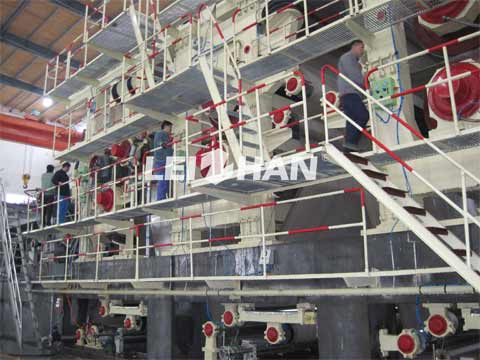 According to the corrugated board production process, the corrugated board product line consists of two relatively independent process sections of the wet part equipment and the dry part equipment. The wet equipment mainly includes original paper tray, automatic paper machine, preheating pre-conditioner, single-faced corrugated machine, paper-feeding bridge, rubber-coated machine, double-sided machine, etc. The wet equipment makes corrugated base paper into three, five and seven layers of corrugated cardboard with different twist type combinations; the dry equipment mainly includes rotary cutting machine, slitting and creasing machine, cross cutting machine, stacking machine, etc. The dry equipment will carry out the slitting, cross-cutting and stacking of the corrugated board according to the requirements of order.
Wet Equipment Deploy
The wet equipment is the crucial device to form corrugated paper during the whole line of corrugated cardboard product line, which is mainly related to the influence of raw paper, glue, steam and other factors on quality of finished paper. Therefore, it's essential to solve the problems of paper quality. The key equipment single-faced corrugated machine of wet part should be equipped with advanced technology, positive pressure cassette type Single-sided machine. It can adjust the value display of the gap.
Dry Equipment Deploy
Among the dry equipment, slitter device can affect working efficiency greatly, so it's significant to choose it properly, the knife in the slitter should be movable, and the dust-proof treatment of cutter and pressure guide should be taken into account when purchasing tile. Because in practice, the dust of sharpener will fall on the smooth guide, and cause knife or pressure roller to move hard during the row of knife and cause stop operation futher. The minimum spacing between the pressure rollers should ensure the positioning of 50mm cutter line.
Corrugated board product line is the most important making line equipment among carbon packaging company, so it is a very popular paper product line in the paper industry. Leizhan supply complete set of Corrugated cardboard making line, any needs, feel free to contact with me: leizhanpulper@gmail.com.