HD Series Sludge Dewatering Machine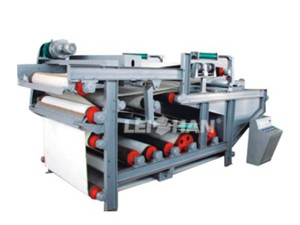 Leizhan HD Series Sludge Dewatering Machine is mainly used to concentrate sludge in paper making industry, municipal engineering, etc.
Application & Features
Double helix network structure.
Wedge dehydration, a specially designed dewatering roll.
Pneumatic tensioner.
High sludge concentration, low energy consumption.
Main Specification
Type
HD-1
HD-2
HD-3
HD-4
Note
Width of net (mm)
1500
2000
2500
3000
Pneumatic (manual) adjust deviation Pneumatic (manual) tensioner, anticorrosive processing
Speed of belt(m/min)
1.5-8
Concentration of inputPulp(%)
1.5-4
Concentration of outputPulp(%)
20-30
Pressure of washing water (Mpa)
≥0.5
Quantity of mud (t/d)
110-280
150-380
210-480
260-400
Motor power(kw)
2.2+1.1
3.0+1.5
4.0+2.2
5.5+2.2
Work Principle
Since the liquid fluidity of the sludge is high, more water free state, no compressive strength, the first to enter the gravity dewatering zone for removing water free state, reducing sludge mobility, greater bond between the particles and flocs force, and then enter the wedge preload dehydration stage, sludge dewatering by gravity, almost completely lost mobility for maneuver to prepare for dehydration dehydration and shear.
After gravity sludge dewatering zone and wedge dehydration, basically the removal of free water and moisture inside the floc into the swing of dehydration, by roundabout stick diameter changes, gradually increase the belt tension gradually dehydrated form, when belt mud into the smaller diameter of the roll body, with a press force by the tensile force generated by the filter into two symmetrical upper and lower filter belt, by the different rotational direction of the shearing force generated by the dehydration treatment.
Capacities vary depending on feed size, feed rate, operating conditions, desired product output, characteristics of feed material, and equipment configuration
Download complete technical literature [PDF]

Paper pulping line requires more than guesswork.
Leizhan can offer customers complete paper pulp equipment service with rich experience. We are aiming at building a world brand in paper making & pulping field with professional skill and positive innovation spirit.
If you are interested in our products, welcome to our company, you can also consult via telephone or email. We will offer you product details and working knowledge. You will not only get high quality equipment with competitive price but also intimate service.