Paper Pulping Refiner Equipment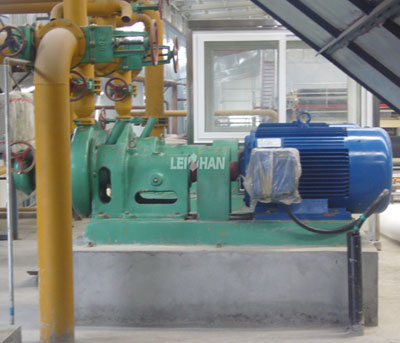 Paper Refiner Equipment is mainly used for paper pulping in waste paper making process, it's type mainly includes Double Disc Refiner, Claflin Refiner, and so on. Refiner machine has high energy consumption in paper pulping process, and the higher the rotational speed of the refiner machine, the higher the frequency of the operation of the knife on the fiber; On the other hand, increasing the rotational speed and increasing the diameter of the disc can improve refiner equipment production capacity. Therefore, there are high-speed, large-diameter development trend of refiner machine.
Paper Pulping Refiner Equipment Influencing Factors
1. Material Specification: Different type wood will bring the differences of the physical properties, fiber morphology and chemical composition, and refining pulp property will also change accordingly.
2. Refiner Consistency: Refiner consistency is an important influence parameter for refiner equipment production. Refiner consistency have an important influence on the pulp strength, debris content, and pulp freeness.
3. Temperature: The important factor of refiner is that the processing temperature, that is, the temperature of wood chips and first section pressure refiner shall not exceed the glass transition temperature of lignin, above or below the temperature range, material property will be completely different.
4. Disc Refiner Gap: There are three important controllable parameters for disc refiner, that is pulp consistency, energy consumption, disc refiner gap. When maintain a constant parameter such as energy consumption, disc refiner gap should enlarge to improve the refiner consistency. If consistency is constant, the current and the disc refiner gap influence each other, reduce the gap, energy consumption will increase.
Contact us
Zhengzhou Leizhan Technology Paper Machinery Company
Office Add: Hetun Industrial Area, Dawei Town, Xinmi City, Henan Province, China
Email: leizhanpulper@gmail.com
Tel: +86 371 55129198
Fax: +86 371 86138029