DD Series Double Disc Refiner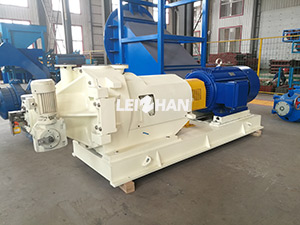 DD Series Double Disc Refiner is an ideal paper pulping equipment which used for continuously pulping chemical wood pulp, mechanical pulp, and recycled pulp under consistency of 3%-5%.
Application & Features
Paper making machine DD Series Double Disc Refiner is mainly used for pulping, improving slurry beating degree to meet the paper making needs.
It can be installed variety tooth refiner plate. Suitable various raw materials such as wood pulp, mechanical pulp , chemical pulp, waste paper pulp etc.
Adopt constant power control system, beating effect is stable.
Accurate retract mechanism, easy to control, the beating effect is good.
Main Specification
Type
DD550
DD600
DD660
Diameter of Plate (mm)
Φ550
Φ600
Φ660
Product Capacity (t/d)
10-100
12-150
15-200
Concentration (%)
3-5
Motor Power(kw)
160-250
185-315
220-500
Capacities vary depending on feed size, feed rate, operating conditions, desired product output, characteristics of feed material, and equipment configuration
Download complete technical literature [PDF]

Paper pulping line requires more than guesswork.
Leizhan can offer customers complete paper pulp equipment service with rich experience. We are aiming at building a world brand in paper making & pulping field with professional skill and positive innovation spirit.
If you are interested in our products, welcome to our company, you can also consult via telephone or email. We will offer you product details and working knowledge. You will not only get high quality equipment with competitive price but also intimate service.