80T Corrugated Paper Pulp Making Line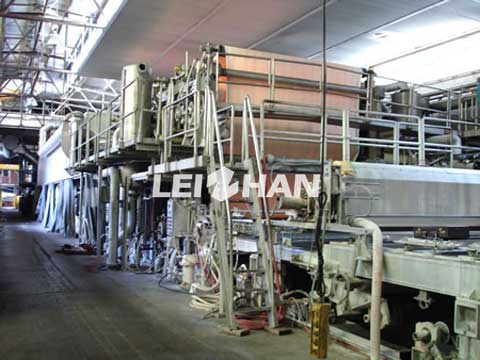 Corrugated paper has the advantages of low production cost, high strength, easy processing,  excellent printability and easy storage. Therefore, there're so many clients contacted us to start a new corrugated paper project. Our skillful engineers designed full set of machine for 80t corrugated paper making line with low investment cost. Complete set of corrugated paper pulping machine can reduce fiber loss and improve quality of finished paper.
80T Corrugated Paper Pulp Making Line Main Equipment
Chain Conveyor: B=1400mm,Degree 23°, estimate length 26m
D Type Hydrapulper:  15m³ H=10mm C=3~5%
Pulp Pump: Q=300m³/h H= 32m C=2.5~5%
High Density Cleaner: Q=4500~5800l/min, C=3~5%, P= 0.2~0.5MPa
Reject Separator: Ø380mm C=1~2% Ø5mm
Low Density Cleaner: 600ml/min,C=0.9%
Double Disc Refiner: Ø380 mm C=3~5%
Inflow Pressure Screen: A=1.36m2 S=0.35mm C=0.6~0.9%
Welcome to email us to get more details that you need. 80t corrugated paper machine, pulping line equipment and spare parts all are available in Leizhan company with competitive price and long service life.
Email: leizhanpulper@gmail.com