ZPT Series M.C. Bleaching Tower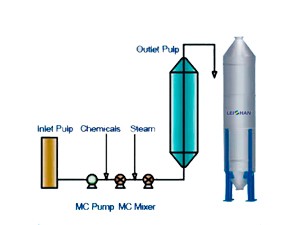 ZPT Series M.C. Bleaching Tower is mainly used for the bleaching of waste paper pulp in M.C. bleaching section of stock preparation process.
Application & Features
Slender shape with shuts in both ends makes it easy for stock to rise and prevents stock from detaining.
Baffle devices in the tower makes uniform distribution of stock.
Steel frame structure, good rigidity, easy to install.
Connecting pulp parts is stainless steel, corrosion resistance, long service life.
Main Specification
Type
 ZPT31
 ZPT32
 ZPT33
Specification
15
25
45
Bleaching Temperature( ℃)
 60
Bleaching Consistency(%)
 8-12
Bleaching Time(min)
 20-30
| | | | |
| --- | --- | --- | --- |
| Type | ZPT31 | ZPT32 | ZPT33 |
| Processing Capacity(t/d) | 40-60 | 80-120 | 120-180 |
| Diameter of Tower(mm) | 1600 | 2000 | 2600 |
| Height of Tower(mm) | 9250 | 9850 | 10500 |
Capacities vary depending on feed size, feed rate, operating conditions, desired product output, characteristics of feed material, and equipment configuration
Download complete technical literature [PDF]

Paper pulping line requires more than guesswork.
Leizhan can offer customers complete paper pulp equipment service with rich experience. We are aiming at building a world brand in paper making & pulping field with professional skill and positive innovation spirit.
If you are interested in our products, welcome to our company, you can also consult via telephone or email. We will offer you product details and working knowledge. You will not only get high quality equipment with competitive price but also intimate service.