XZNS Series New Mid-Consistency Pressure Screen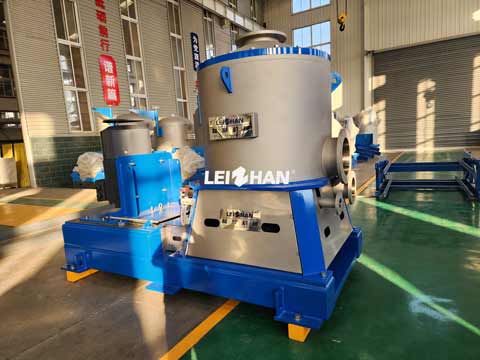 Function and features:
1. Pulp enters from the top of the pressure screen, By gravity to effectively remove heavy impurities, reduce wear on the
rotor and screen basket, and prolong the service life;
2. Improve the screening efficiency, better removal of stickies;
3. Significantly reduce energy consumption, energy saving up to 25%;
4. Further optimization of screen basket size, stronger adaptability, lower thickening coefficient, can effectively reduce fiber
loss and reduce the possibility of clogging;
5. Wider application, suitable for various raw materials;
6. Easier maintenance and less unplanned downtime.
Model
XZNS0.5
XZNS0.9
XZNS1.5
XZNS2.3
XZNS3.5
XZNS4.7
Nominal area(mm)
0.5
0.88
1.49
2.3
3.53
4.67
Screen hole size(mm)
φ1.6-φ3.5
Screen slot size(mm)
0.1-0.65
Production capacity(T/D)coarse screen
90-160
135-250
200-380
260-500
400-700
500-1000
Production capacity(T/D)fine screen
20-100
30-150
50-230
70-300
100-450
120-700
Inlet consistency(%)
1-4
Motor Power(kw)
11-45
22-75
30-110
45-160
55-250
90-355
Welcome email us, our email: leizhanpulper@gmail.com

Paper pulping line requires more than guesswork.
Leizhan can offer customers complete paper pulp equipment service with rich experience. We are aiming at building a world brand in paper making & pulping field with professional skill and positive innovation spirit.
If you are interested in our products, welcome to our company, you can also consult via telephone or email. We will offer you product details and working knowledge. You will not only get high quality equipment with competitive price but also intimate service.