Slitting And Rewinding Machine In Paper Making Line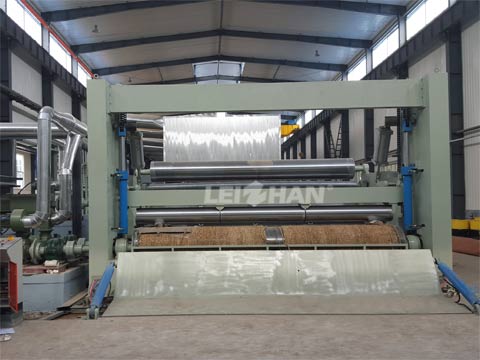 1200 m/min High speed slitting and rewinding machine in paper making line
The 1200 m/min high speed rewinding machine is used for slitting 100—200g/㎡ Corrugated paper and A-grade kraft liner paper in paper making machine, and rewinding the paper roll to meet the specific width and tightness.
Working principle of Slitting & rewinding machine
Paper rolls are taken down from reeling machine and put them on the unreeling stand. The unreeling stand is equipped with alternating-current generator. Optical-electricity encoder control the system constant tension by using tension sensor and it can stop quickly when paper breaks. The put paper roll downward lead to paper web along the paper guiding roll.
By using curved roll, the paper enter the slitter equipment.After tension sense roll, another curved roll, the paper wind on the paper roll holder. The paper roll holder depend on the drive of supporting roll and turn around. Then the whole paper web go forward.